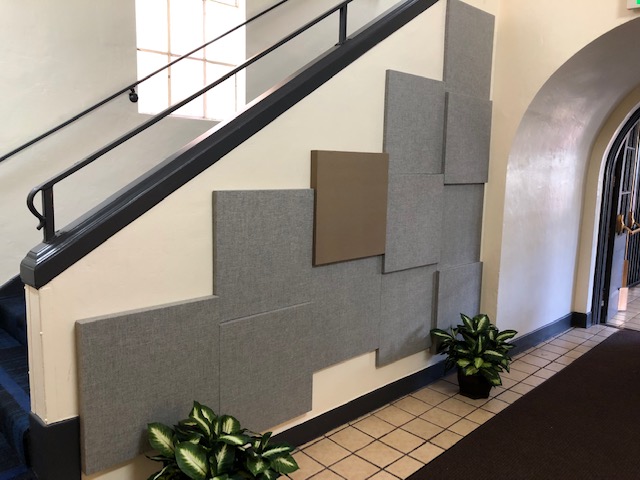 What Are Acoustic Panels?
Acoustic panels are sound absorbing features used to reduce sound and ambient noise problems in many types of buildings and structures. Uses of acoustic panels range from commercial construction projects such as office spaces, restaurants, auditoriums, and churches, to smaller DIY projects such as home theaters. They can range in size and design from 12"x12" squares arranged on a wall to much larger panels suspended from the ceiling to buffer sound in large open spaces.
Anatomy of an ADW Acoustic Panel
While some are constructed of foam, acoustic panels from Acoustic Design Works are made from a dense, sound-absorbing fiberglass core wrapped in scrim (a thin textile layer) and then wrapped in an acoustically-transparent polyester fabric. Acoustic transparency means that sound waves can pass through and be absorbed by the core, rather than bouncing off and echoing around the room.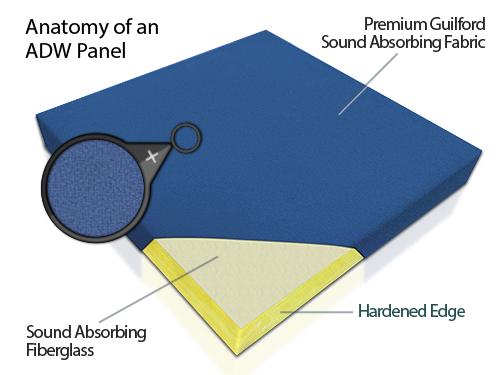 Fabric-covered, solid acoustic wall panels offer a much higher noise reduction control than foam panels for a big reason: ADW acoustic panels have a solid, scientifically-designed sound wave-absorbing core covered in high quality acoustic fabric. In contrast, simple wedge and pyramid foam paneling allows sound waves to pass through and bounce off of the wall they are installed on, which increases noise and echo. Our fiberglass core acoustic panels will generally absorb about twice as much sound as foam-based panels.
Acoustic panels, which we can make in nearly any size and shape up to 4' x 8', reduce sound (echo, noise, reverb) within a room by absorbing the sound waves bouncing in the room, while also reducing sound traveling through walls to a lesser degree. Acoustic panels can also be made in a "baffle" style with fabric on both sides, designed to be hung from a ceiling to further reduce ambient noise and echo in a large space with high ceilings.
Builders, business owners, contractors, and interior designers should consider incorporating acoustic panels in their construction and commercial remodeling projects in order to provide an environment that is comfortable for all users.
In a recent study from Oxford Economics, 'the ability to focus and work without interruptions' was selected as the most important feature of a work environment by employees. More than half of the people surveyed said that unwanted ambient noise harmed their workplace satisfaction.
Our acoustic wall panels absorb 85 percent of unwanted sounds like reverberation and echo. They are also manufactured in the USA. We offer a wide variety of colors, shapes and size options, including custom designs that can include photos or logos, for all sizes of projects.
Call or email us to discuss the specific sound quality and control needs of your construction or remodeling project.
Need a quote? Fill out our quote form for your custom project.